Hair color chart
We offer colored hair weaves in the popular colors listed below, these items are in stock and ready to ship. We will soon be offering these colors on clip ons, bulk hair, and fusion hair to our product catalog. These colors usually accomodate 90% of our customers. You can also order a color ring to see the entire range of colors we offer. Color 1B is the natural color of virgin Indian hair.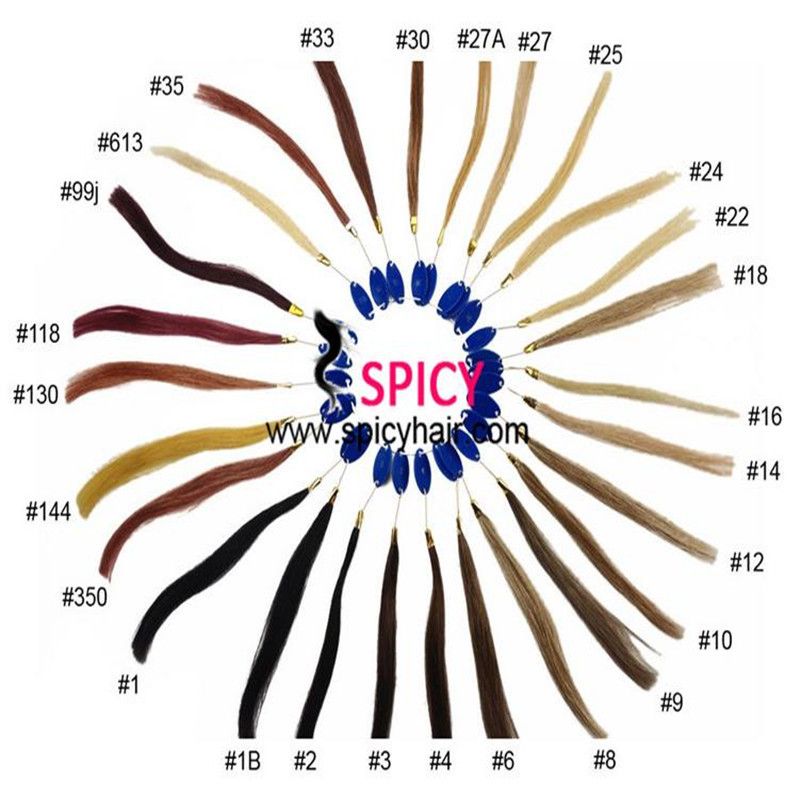 Coloring Virgin Hair is Easy
Please keep in mind that it's a simple process to color your #1B virgin Indian hair, as long as you stay within 3 to 4 levels of color. Going from a #1B to Platinum blonde requires bleaching and is not an easy process. Furthermore, the more chemicals that are used on the hair the more damaged the hair gets. Going from a #1B to Dark Brown, Medium Brown, or Jet Black is a much easier process. Since virgin hair is completely natural and has never been processed, it takes the color very easily just like your natural hair. Please note: It's important to consult a professional regarding coloring, we cannot be held responsible for mixed results.
Tips on Coloring Hair
When choosing hair color keep your skin color in mind. If you have a light complexion you want to be mindful of using very dark hair colors, it may draw color out of your skin.
Virgin Remy means the hair has not been processed or colored in any way. Adding highlights to virgin Remy hair has beautiful results.
Off black is the best combination of natural black/brown colors and suit almost everybody. Off Black is also known as "natural color."
If coloring your hair for the first time, it's best to have it done by a professional. We dont recommend trying it yourself for the first time