Difference between Lace Frontal and 360 Lace Frontal
The new trend in hairpieces for women, are these"360 band lace frontals", or as they're gaining popularity as 360 Frontals – which goes all the way around the circumference of your head, making it more comfortable, more natural ,and more realistic.
Here we show you a few pictures at first :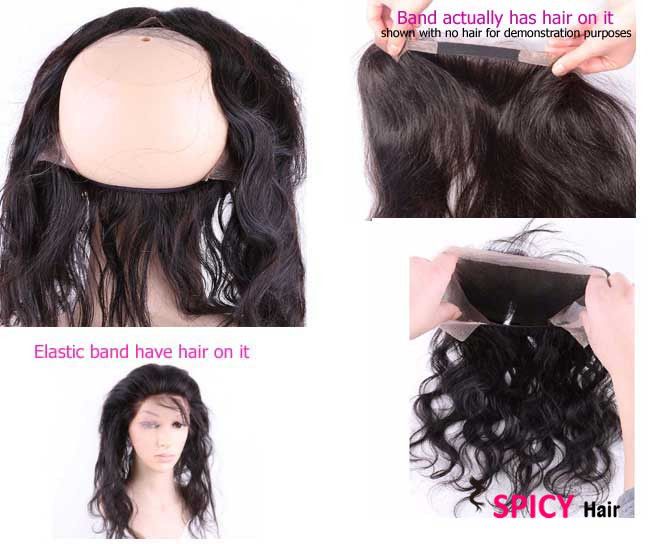 After see the picture maybe more confused in your mind, how it be used ?
Actually 360 lace frontal most be used on people who have less hair around head.
When you wear the 360 lace frontal ,put your head through the hair pieces, then put down your own hair to cover the lace frontal, if you worry that is not realistic enough, you also can sew in the lace closure to your head directly.
What's the difference of 360 lace frontal with normal lace frontal ?
1. 360 lace frontal can meet some people who just want add more hair around the head.
2. 360 lace frontal also can be seen as a half full lace wigs.it have small,medium,and large cap size for you to choose.
3. if you want 360 lace frontal can more easy to use .It can be worn directly no need together with human hair bundles(if you want it also can )
But when compared with usually lace closure it also have some disadvantage.
A:like we had said 360 lace frontal most be used on people who less hair around head.but normal lace closure or lace frontal can be used anywhere on head,so traditional human hair lace frontal and lace closure more flexible.
B:as traditonal lace frontal size more less than this kind frontal,so from price ,trditional closure more cheap.
C:traditional lace closure you can add silk top in middle,but for the new one for now it is a little hard to add silk top(even can add silk top,it also too expensive).
So both human hair pieces have their own feature.so no matter which one you choose,realistic and comfortable is the most important!