360 Lace Frontal
NEW 360 FULL LACE CAP!
IS NOT A LACE WIG .IT'S OUR NEW ALL ROUND LACE FRONTAL PIECE
1.IT COVERS THE ENTIRE PERIMETER
2.NATURAL HAIRLINE
3.BABY HAIR AROUND THE ENTIRE CAP
4.CAN BE PART ANYWAY
5.ALLOW YOU TO WEAR HIGH PONY TAILS AT EASE.
6.SIMPLY ADD YOUR BUNELES IN THE MIDDLE
7.WITH HIHGEST QUALITY SWISS LACE
8.CAN BE WORN GLUELESS
9.CAN BE ROCKED LIKE A LACE WIG
10.WITH HIHGEST QUALITY SWISS LACE
Ladies want to wear your hair in a high ponitail without having to cover your edges or without feeling self conscious? You can now do this with our 360 Lace Frontal Band. This will give you a naturally beautiful flawless hairline that actually looks like your hair. Our 360 Lace Frontals measures 22.5 X 4 X 2 and is made with Brazilian hair. Across the front of the frontal the measuresments goes from ear to ear and 4" back, below the ear and across the back the measurements are 2" . Baby hair comes in front and back of the Frontal Band. We are also offering 360 Frontal with Elastic Band and with the Adjustable Straps. We offer this in Body wave,Wavy, Straight, Nature wave ,Curly and Kinky curly.
Our standard 360 Lace Frontal Band is for individual with a medium size head that circumference measures 22.5". If the head is smaller or larger an option for the unit to fit securely would be to use the Elastic Band or the Adjustable Straps. (Those with a medium size head can also choose these options as well). Below are pictures of all of the options we offer for our 360 Lace Frontal Band.
360 Lace Frontal Band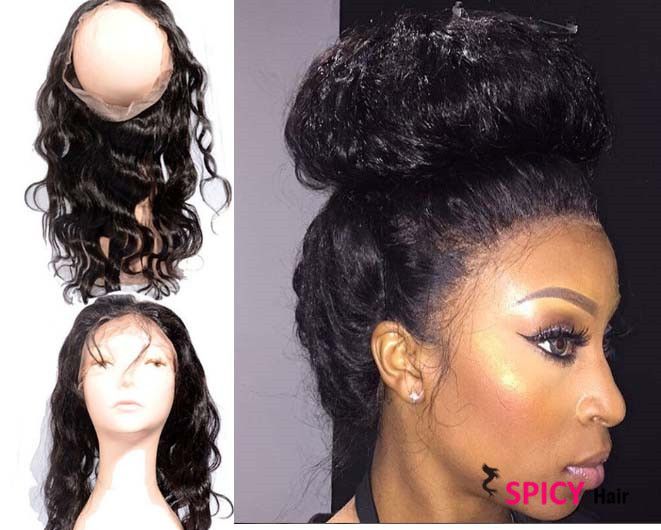 360 Lace Frontal with Elastic Band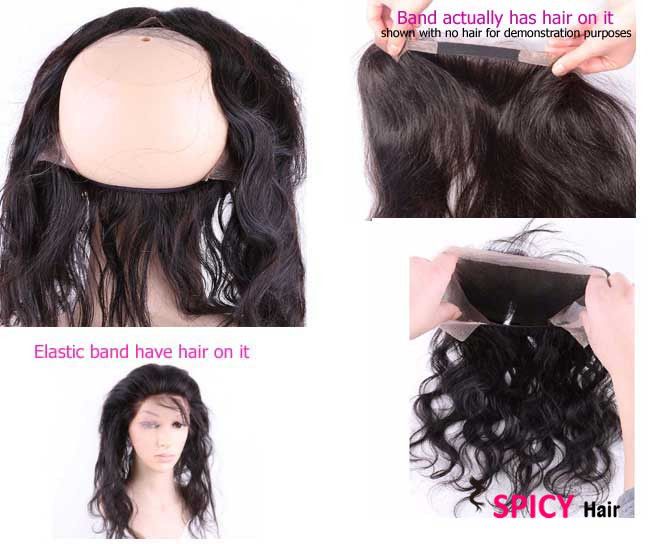 360 Lace Frontal Band with Adjustable Straps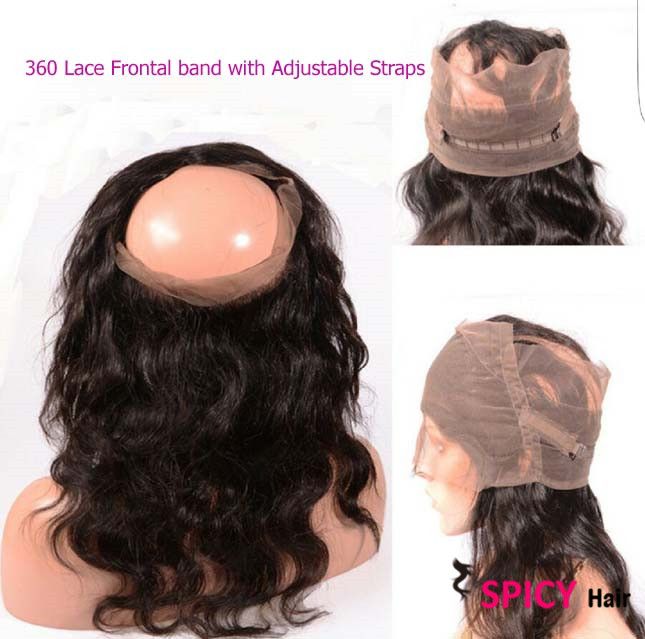 If you have more question about 360 lace frontal band pls contact me via email:

sunny@spicyhair.com or add my whatsapp: +8618825162874